English Version for Julia Kedhammer!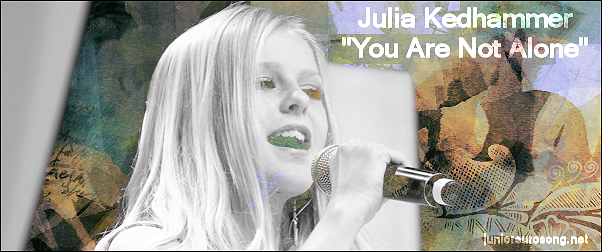 Julia Kedhammer from Sweden has released an English version and video clip (filmed by Jonny Holmberg) of "Du är inte ensam" called "You Are Not Alone"! Here are the lyrics for you, they are slightly different than the official translation:
Watch the video by clicking here!
Could you fake a smile with fears inside
Love or hate, I don't know, I've tried
A million thoughts run through my head
Wanna leave the ground, but I fall instead
Could you trust someone you know for sure
Keep a secret forever more
Could you tell what is right and what is wrong
There is always someone out there for you
You are not alone
You are not alone
There is always someone out there for you
You are not alone
You are not alone
Can you place your goals in hands of faith
Keep a dream when you're awake
Trust someone you're keeping near
When a broken vow's your biggest fear
Could you find a way to reach the stars
Without breaking hearts and getting scars
Could you tell what is right and what is wrong
There is always someone out there for you
You are not alone
You are not alone
There is always someone out there for you
You are not alone
You are not alone
You are not alone
Whoa
Whoa
There is always someone out there for you
You are not alone
You are not alone
There is always someone out there for you
You are not alone
You are not alone
Oh whoa
You are not alone
You are not alone
Here are Julia's official accounts in case you would like to follow, like or subscribe to her:
Instagram: juliakedhammar
Facebook: Julia Kedhammar Official
Youtube: Julia Kedhammar