Monday, 09 February 2015 03:23
Good news for JESC fans! It was unsure whether Slovenia would return to the competition after their disappointing placing last year, but luckily they are good sports and eager to promote this opportunity for their children as RTV Slovenija have released their 2015 program line-up and Junior Eurovision is included in this. Is Ula's little sister old enough to represent them yet?
How many countries are in so far? Well we've had official confirmation from Belarus, Bulgaria, Georgia, the Netherlands, San Marino, Slovenia and Sweden with Malta being "very likely". Here's to another big edition!
Tuesday, 27 January 2015 05:05
The General Directors of BNT and BNR (Vyara Ankova & Radoslav Yankulov) and the Director of the EBU (Ingrid Deltonr) have today met with Prime Minister Boyko Borisov to discuss the Junior Eurovision. Ms Ankova stated ""The most important topic standing before BNT is precisely the organization of children's Eurovision and I am glad that we got great support in this regard. I think this is a chance not only for BNT, it should be a national cause for Bulgaria. Hence, today I can say that Bulgaria and national television will be the host of this prestigious event." This means we will be going to Bulgaria for their very first Eurovision event!
As for the budget, it is not clear how much it will cost the organization of the final competition. But experts are convinced that in any case it would be a huge advertisement for Bulgaria. The initial budget will be set to 2 million euros, which is more than Malta spent (Malta spent 1.4 million: Source)
Slavi Trifonov and "Ku-Ku Band" will also be involved, and of course Krisia will perform.
(Source: http://eurovision.bnt.bg/bnt-poluchi-podkrepa-za-organisiraneto-na-jesc/)
Saturday, 17 January 2015 07:17
Sometimes in the Eurovision world, weird and wonderful is greatly appreciated. Sure, we all have our classic favourites, whether it be an upbeat number or a traditional love ballad, but we also love something "new"! Remember Bzikebi, who won JESC 2008? They were unique, and were justly rewarded for it. But did you ever wonder "what could have been"? Let's take a look at some quirky songs that never quite made it to JESC.
1. Mystery of Darkness – Familierock
This has to be the only gothic/metal song in a JESC national final. The sibling set wears their hair long and faces pale as they sing this goth rock song which is actually really catchy and probably would have scored quite well just because it's memorable. Children can be scary too!
2. Star-Ty – Network
We have an outer space theme, metallic costumes, aqua face makeup, special effects from the 1980s and a song to match. It's great! If you check out the Moldovan national final from 2010 you will actually find quite a number of gems, from folk to summer pop, and Natalie Turcan's "Zbor" which can be described as creepy trance (and I love it).
3. Varya Strizhak – Labyrinth
This is a fun one. Varya first released a rather high-budget music video for her song which went viral in Russia and made extensive use of autotune. It also featured the most amazing costumes which didn't make it to the national final to everyone's disappointment! Sadly Youtube star did not turn into JESC star for Varya, but she's still making those videos!
Read more
Saturday, 17 January 2015 06:40
Hi everyone! It's been over a month since Junior Eurovision was held in Malta and Vincenzo triumphed. Lately, the winner of Junior Eurovision has then hosted the next year (with the exception of Netherlands hosting 2012). Unfortunately due to the Italian broadcaster being unable to secure sufficient funding for the event, despite trying hard, they will not be hosting JESC 2015. But never fear JESC fans! Two other broadcasters are interested. It looks to be Bulgaria who will host, with the EBU officially inviting them to host this week. If Bulgaria decline, the honour will likely go to Malta once again. So the question is, which city in Bulgaria would you like to go to?
Wednesday, 03 December 2014 21:21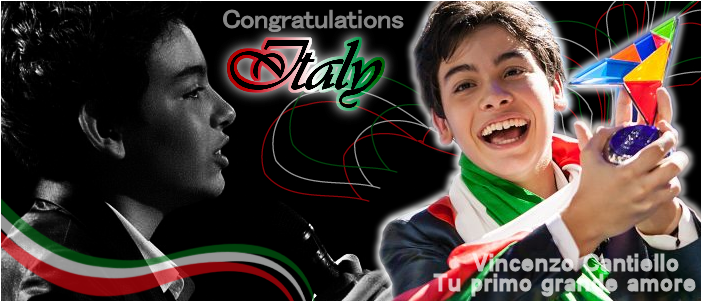 Congratulations to Vincenzo Cantiello from Italy who won the Junior Eurovision Song Contest on their debut. We'd like to thank you all for following our coverage this year, it was great to be reporting live for the first time and we learned a lot. Next year we will be back with bigger and better coverage. If you have any questions about what it was like behind the scenes, ask on our Facebook or Twitter. The results were:
1st - Italy (159 pts)

2nd - Bulgaria (147 pts)

3rd - Armenia (146 pts)

4th - Malta (116 pts)

5th - Russia (96 pts)

6th - Ukraine (74 pts)

7th - Belarus (71 pts)

8th - Netherlands (70 pts)

9th - Cyprus (69 pts)

10th - Serbia (61 pts)

11th - Georgia (54 pts)

12th - Slovenia (29 pts)

13th - Sweden (28 pts)

14th - Montenegro (24 pts)

15th - San Marino (21 pts)

16th - Croatia (13 pts)
San Marino and Slovenia used only jury voting. It remains to be seen whether Italy won both the televoting and the jury voting. Malta scored their 2nd highest position ever (Daniel Testa was in a field of 15), making the Maltese current selection process very successful.